You might think that email drip marketing is kind of old-school. After all, they've been around practically as long as email itself.
How well does email drip marketing work?. Really well, it turns out.
Drip marketing's heady blend of old-fashioned sales letters (think Claude Hopkins) and high-tech personalization can convert like nothing else.
The email itself has proven to be a consistent conversion driver. Over the last five years, its conversion rate has varied only about three percentage points.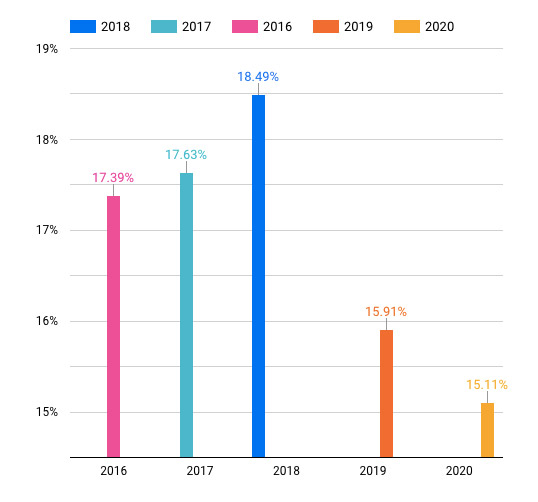 It's so effective that for every dollar you spend on email marketing, you're likely to earn $38 in revenue for your efforts.
Drip campaigns shift those positive results even more in your favor.
Email drip marketing, therefore, is an essential component of your content marketing strategy.
Drip marketing is a form of email marketing in which you send several emails to people in target customer segments at precisely timed intervals.
A drip marketing campaign's endpoint can either be a sale, a request for a consultation, or another goal you want to reach.
Drip campaign recipients are those people who have already expressed enough interest in your brand to have signed up to become email subscribers. That fact helps drive its effectiveness.
That's why it pays to study those campaigns that have experienced incredible success. Here are a few of our favorites.
Quick Takeaways:
To create successful email drip marketing campaigns, you need to:
Define the customer segment you intend to reach.
Research that segment's needs, pain points, and other characteristics.
State the goal for your campaign.
Create effective content that informs, builds trust, and engages your recipients.
1. Drip Emails That Educate
The copy in drip marketing needs to be sharp yet sincere. it needs to provide value. And, the recipient should feel as if you really want to improve their day and solve their biggest challenges.
That's why my ultimate favorite types of drip emails are those that teach recipients. These emails can be anything from a series of how-to videos with written instructions or inside information that helps them solve a challenging problem.
The point is to provide recipients with a value over and above the effort it takes to open and read all the emails in a series.
The non-profit watchdog group, The Project on Government Oversight (POGO), needed to grow awareness, as well as its subscriber list. Since one of its main goals is to expose abuses of power, they decided to create a course about what to do if subscribers need to blow the whistle on an employer or a government agency.
Digging down into their target audience's needs, they discovered one of their recipients' pain points. Not surprisingly, given the organization's mission, there was a segment of their audience who had to deal with abuse of power.
With that audience segment, the campaign would likely be a success. Here's the takeaway: It pays to research your subscribers. It might take extra time, but it's well worth investing in.
Educational email drip campaigns are excellent choices for B2B and non-profit organizations. With their interest in a long-term relationship with whom they do business, it's always a good bet to provide valuable information to potential and current clients.
2. Holiday Email Drip Marketing Campaigns
"Everybody does these," you say. "Aren't everyone's inboxes crowded with them around the holidays?"
Yes, they are. But if you have the right headline, the right copy, and the right angle, they can be real moneymakers.
They don't have to be about holiday gifts, although they can be. Since the new year is just around the corner, both people and businesses analyze the past and plan for the future.
Trello, project management, and productivity software platform chose the latter. With its "Twelve Days of Trello" campaign playing on the holiday favorite, it sent a set of 12 short emails to its subscribers.
With twelve actionable tips that helped recipients plan both their personal holiday activities and their business's productivity, the drip emails were a success. The subtle message: Trello is a two-for-one tool that can help its users with both work and life.
It's no wonder that it was so successful.
3. Cart Abandonment Email Campaigns
With today's e-commerce technology, it's easy to find those people who have abandoned their carts. Whether something distracted them, or they resisted the temptation to buy, they didn't buy something they really wanted.
With Eat-n-Park's trademark Smiley Cookies, it was likely the latter. If you've ever been to one of their Western Pennsylvania eateries, you've probably fallen in love with their frosted sugar cookie.
The cookies are now available online. Darn. And to make matters worse for cookie lovers watching their weight, when they abandon their impulse purchases, the company sends them near-irresistible emails.
The minute someone abandons their cartful of cookies, SmileyCookie.com, Eat-n-Park's e-commerce site, sends them an email. As recipients check their email during a lunch break or while watching TV, they see the email. In full color, of course.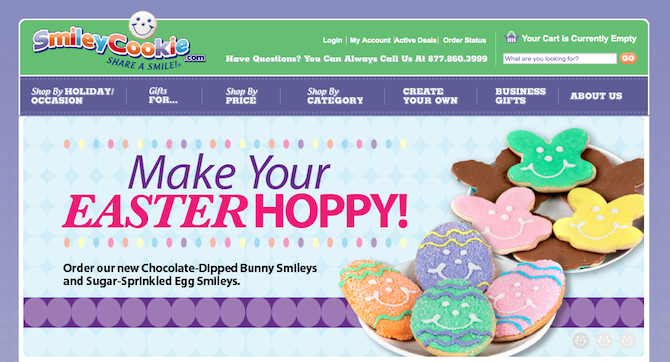 Then, if they don't bite (pun intended), they receive another email in 23 hours. With a discount, no less. Who could resist?
But some budget-minded folks probably do. Four days later, they receive a final email with a larger discount. At that price, they're probably dead gone. I know I would be.
4. Drip Campaigns for Cold Leads
A go-to email marketing tool for B2B companies and high-end B2C companies, cold lead drip campaigns are amazingly effective. InsightSquared, a revenue intelligence software company, used an innovative approach to recapture cold leads.
They created an email list segment of only cold leads. The first message asked if the contact person was available for lunch on a specific day. Those people who didn't reply received a second message, "Are we still on for tomorrow?" the day before the suggested lunch date.
If the prospect didn't respond to the second one, they received a final email, one that offered to reschedule if they were still interested. This type of email works best if your marketing team works hand-in-hand with your sales team.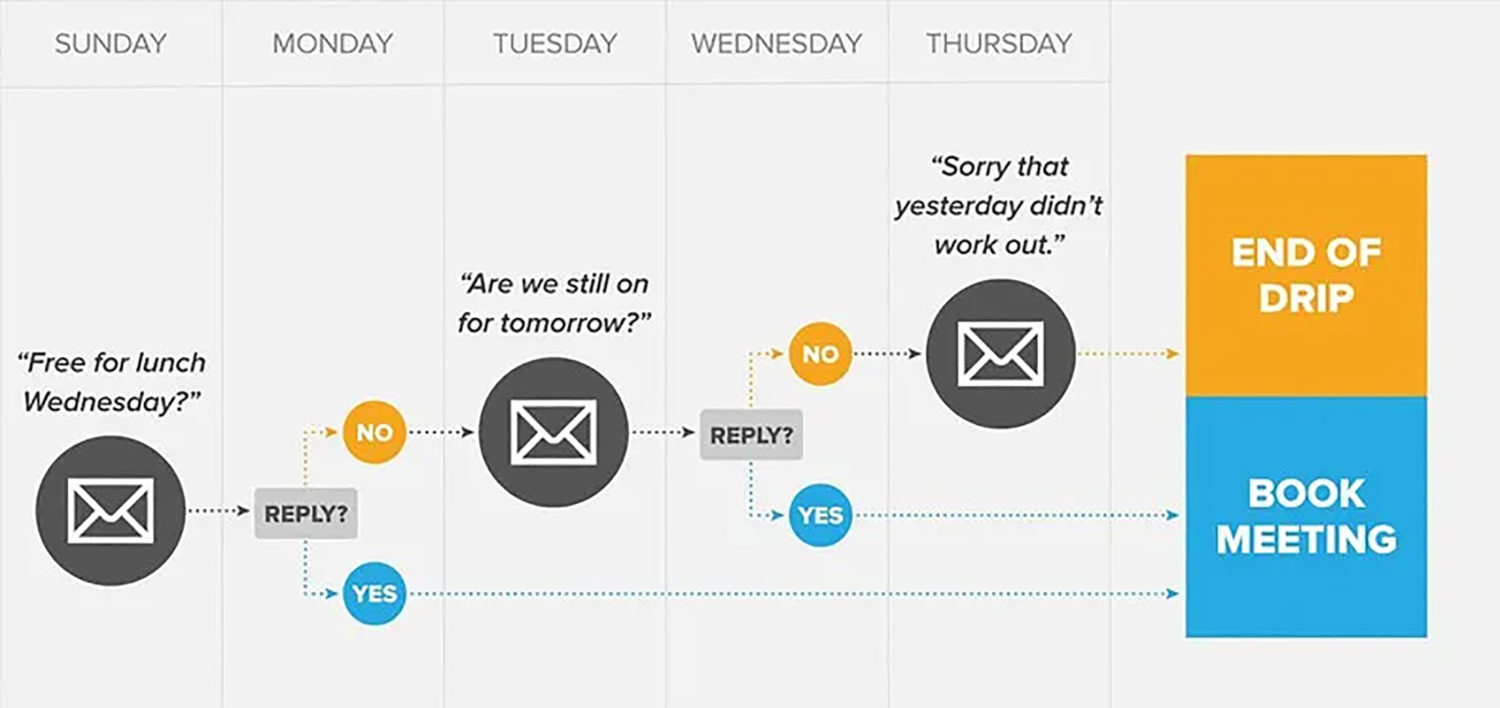 When both teams share information, you can add more personalized messaging to the "lunch date" email. With added insights, such as mentioning feedback the prospect had during their last conversation, the campaign can become even more effective.
5. Drip Campaigns That Win Back Customers
Have you ever made a resolution (New Year's or otherwise) to stop binge-watching the latest trendy series and start enjoying the great outdoors? Most of us probably have.
I'll bet good money you're now probably back in Netflix's good graces again, thanks to their drip email campaigns that are simply irresistible.
They start the moment you cancel. Not only do they confirm your cancellation, but they also insert a clever little call to action, inviting you to restart their service.
They'd "obviously, love to have you back." And you're definitely considering it, with their trademark red-and-white CTA button beckoning you like a siren. After all, you just read about a new must-watch series.
But, if you didn't take the bait, no worries. Eventually, Netflix bets, you will.
Here's why. Over three months, the platform tantalizes you with all their newly added films and TV series, along with your past favorites. A "Play" button is all the CTA most people need to turn back into a couch potato.
The campaign ends with a final email inviting you to restart your membership. Or perhaps not. If you hold out long enough, Netflix offers you another one-month free trial.
And that's how they got me back.
With inviting subject lines, compelling content, and the right timing, you can have similar success with your drip marketing campaigns. If you are ready to get more traffic to your site with quality content published consistently, check out our Content Builder Service.